Surprise!
There are many different ways to pop the question if you are ready to get engaged. From a classic on-bended-knee romantic moment to an elaborate scheme to ask this universal question, the best marriage proposals are those that are well thought out and considerate of your partner, making a simple question into an unforgettable moment. Whether the question or answer is a surprise or not, the asking should always be special.
Romantic Dinner
One of the most popular ways to propose is over a romantic dinner. An elegant restaurant, a special bottle of wine or champagne, a delicious meal, and a sparkling ring make up the elements of a romantic evening proposal. Opt for a restaurant with small candlelit tables and a menu you both enjoy to be sure every bit of the evening is perfect. Live music with a specially requested song is another popular accent.
Rings and Roses
A sentimental way to propose is to nestle the diamond engagement ring into the bloom of a perfect rose. Tuck the ring in carefully and be sure it stays secure, but do not hide it so deeply in the flower that the sparkle isn't noticed. You can also tie the ring to a bouquet of flowers, or slip it onto the stem of a single bloom.
Sunset
Timing can be everything in a perfect proposal. Certain moments, such as a sunset, are naturally romantic and can be beautiful times to propose. Proposing under a full moon or a sky full of stars are other romantic options no matter where you plan to pop the question.
Make Music
Music can help set the mood for a perfect proposal, and a romantic song can even sing the words of the question for you. Opt for softer music if you just plan to have it in the background, and you can even play or sing the music yourself if you have the talent to do so.
Vacation Proposals
Proposing on vacation is a unique way to make a getaway even more memorable. Choose a romantic destination and the right time of year - Paris in the spring, summer on a tropical beach, a cozy winter ski resort - for the best vacation proposal, and you may even find yourself planning a return trip for your honeymoon.
Noteworthy Proposals
Leaving a note for someone as a way to pop the question can be a charming and whimsical way to propose marriage. A romantic card, a series of scavenger hunt love notes, or a hidden note in a secret place the two of you share are all unique ways to make your proposal noteworthy.
Be Unexpected
An unexpected location or unusual timing can make a proposal memorable and surprising. Take a winter walk and talk about how your love keeps you warm or comment that you know of more beautiful ice than the most idyllic winter landscape and when you present the ring, it will be both relevant and meaningful.
Sandy Sayings
Finding a secluded, private beach for your wedding proposal can make it instantly romantic. Choose a clean, smooth spot and write your romantic words in the sand for your proposal - "Marry Me" is the most popular, but you can also use "Be Mine" "I Love You" "I'm Yours" or similar sentiments to preface your proposal.
Valentine's Day
Valentine's Day is one of the most popular days to propose. A classic proposal may involve a dozen red roses, a box of chocolates, or other classic gifts, or you can always plan a more unique way to propose on this romantic holiday.
Champagne Rings
Placing the ring in a glass of Champagne is another classic way to propose, but do so with caution. Depending on the ring's age and materials, it could get dull or dirty from the Champagne, and it can be difficult to get a ring out of a delicate flute gracefully. For most couples, while this may seem like the ideal proposal, it would be best to keep the ring dry and save the Champagne for a celebratory toast.
Picnics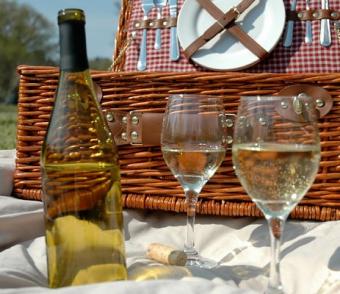 Plan a romantic picnic lunch for a loving proposal. Wine or champagne, cheese, bread, fruit, and chocolates are all perfect treats to pack in the basket, leaving the ring box on top to make the meal a special one.
Happy Holidays
Presenting the engagement ring as a Christmas gift or proposing near the sparkling lights of the Christmas tree can make the holiday season even more joyous. You may choose to make this a private holiday moment, or even propose in front of family and friends for a spectacular surprise.
Texting
A whimsical text message can be a fun way to pop the question, particularly if your dating life is often marked by text messages, email reminders, and online dates. To make this proposal more romantic, make that critical message the first one on a new cell phone, or change the phone's ringtone to a romantic song or wedding march just before you send the text.
Make It Yours
Whether you choose a romantic or whimsical proposal, the important thing is to make it the best possible moment for the two of you. Your idea of a perfect proposal may be very different from traditional ideas, and making the moment special for both of you will help start you toward married life in a romantic and meaningful way.
Need more engagement information? Take a look at …