Mixing Metals
Brides interested in unique jewelry often choose two-tone engagement rings for their unusual beauty and contrasting metals. Many different metals can be used to create two-tone rings, from silver, platinum, and titanium to various shades of gold, including white, yellow, sage, and rose. With a wide range of colors and designs to choose from, there is a tone-tone ring perfect for every bride.
Click on 'buy now' on any of the following ring photos for retail information.
Diamond Contrasts
More Details"
Using smaller diamonds to accent three center stones, this elaborate white and yellow gold ring gives a ring both classic and modern appeal. Because the twisting bands are thin , this is a delicate ring perfect for thin, petite fingers.
Heart Shaped Rings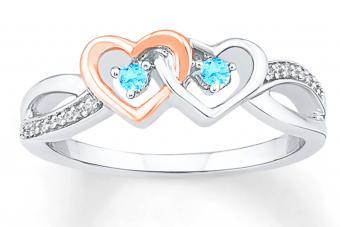 More Details"
Heart-shaped engagement rings often incorporate contrasting metals with a dual heart design using different metals for each heart. This represents the two individuals involved in the relationship, and the hearts bind them together in love. This can be a beautiful engagement ring and is equally popular as a promise ring.
Bold Color
More Details"
Boldly tinted metals or unusual choices such as rose gold or copper give an engagement ring an unusual, striking design. This configuration highlights both the unique color and the ring's center stone, bringing a modern touch to a classic romantic symbol.
Trio Wedding Sets
More Details"
Two tone rings are popular for wedding sets, and contrasting white and yellow gold is perfect for either the bride or the groom. Wide swaths of color give the rings a bold appearance, yet the matching bands help cement the couple's commitment.
Subtle Accents
More Details"
An engagement ring with a lot of small diamonds may not have much room for two-tone embellishments, but a contrasting twist of a different metal within the design enhances the focal point of the central diamonds. This also helps give the illusion of a larger stone.
Filigree Rings
More Details"
Two-tone engagement rings can highlight small ring design details, such as open filigree patterns. Two-tone metals are also popular for other highly detailed rings, such as Celtic knotwork patterns or geometric etchings, since the contrasting metals will highlight those patterns.
Simple Accents
More Details"
A two-tone ring does not need to use equal amounts of both metals for a lovely design. A vintage double halo look set in white gold with rose gold accents gives just the right hint of modernity without sacrificing style or beauty. This also leaves the option for a thin rose gold wedding band.
Hidden Colors
More Details"
For a private, romantic touch, consider two-tone engagement rings that use contrasting metals for a hidden message, such as rose gold hearts or initials in the setting of a white gold ring or a delicate rose gold lining. This is an unusual but clever way to incorporate multiple metals into a ring in a personalized way.
Colored Collars
More Details"
The easiest way to create a two-tone engagement ring with a simple diamond solitaire is to use contrasting metals for the ring's band and a collar or frame for the stone. This gives the stone an offset, highlighted look without unnecessary clutter or distracting accents.
Add More Color
More Details"
If you like contrasting metals but want an even more colorful engagement ring, consider a contrasting setting and colored gemstone center stone. This adds a brilliant burst of color to the ring in a unique and exciting way, while still enjoying the beauty of different precious metals.
Need more ideas for unusual engagement rings? Check out…