With its amazing luster and brilliant bluish purple color, tanzanite is a captivating and unexpected choice for an engagement ring. In recent years, many brides have been choosing tanzanite instead of or in addition to diamonds for the focal point of their engagement ring. Because of this increased popularity, you'll have lots of wonderful shopping options.
Choosing a Style
Tanzanite rings come in a wide variety of styles, offering you plenty of opportunity to find something that suits your personal taste. Whether you're looking for a simple solitaire or something a little more elaborate, one of these rings may be perfect for you.
Tanzanite Solitaire Rings
Consider one of the following solitaires: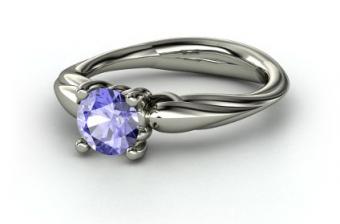 Adora Knot Solitaire Ring - Set in a gracefully knotted platinum band, this round-cut 1.15-carat tanzanite from Gemvara stone glows softly. The low setting is perfect for protecting your gem, and the simplicity of the band serves to set of its beauty. This ring retails for about $2,000.
Tanzanite Three-Stone Rings
Three-stone styles are another popular choice for engagement rings. Typically, a center tanzanite is flanked by two smaller gems. These may be diamonds, smaller tanzanites, or another precious stone. Some three-stone styles can be paired with wedding bands, but some work best alone. Many brides with this style of ring wear just one ring or choose to move their engagement ring to the other hand after the wedding.
Consider one of these three-stone options:
Three-Stone Tanzanite Ring - This simple and gorgeous ring from Angara features a .45 carat round center tanzanite flanked by two .25 carat tanzanites set in 14K white gold. This ring retails for just over $625.
Tanzanite Rings with Diamond Accents
Tanzanite looks lovely when it's accented with several smaller diamonds. The diamonds reflect light into the darker gem, resulting in enhances sparkle. Tanzanite engagement rings with diamond accents can vary dramatically in style. In some cases, you may be able to wear a wedding band with the ring, but in other cases, you may have to switch to the other hand.
Consider one of these lovely options:
Reese Ring - Patterned after actress Reese Witherspoon's engagement ring, this spectacular platinum ring from Gemvara is sure to turn heads. It features a 1.67-carat emerald-cut center tanzanite, which is framed along the edges in tiny diamonds. More diamonds accent the platinum band. It retails for about $3,800.
Art Deco Filigree Tanzanite Engagement Ring - This antique-style platinum ring from from Antique Jewelry Mall is a work of art from every angle. The round center 0.87-carat tanzanite is accented with smaller diamonds and elaborate filigree. This beautiful ring retails for about $2,200.
Emerald-Cut Tanzanite and Diamond Ring - A 1.3-carat emerald-cut tanzanite is the centerpiece of this lovely 14K white gold ring from Angara, with .19 total carat weight of tiny round diamonds set in the band. This design retails for about $1,800.
Tanzanite Ring Shopping Tips
Consider the following tips when choosing your ring.
Choose the Right Setting
Tanzanite is softer than diamonds, sapphires, and many other precious gems. It rates about a 6.5 on the Mohs Hardness Scale, which means it is prone to chips, scratches, and dulling when not properly protected. Since most women wear their engagement ring almost every day for years, the softness of tanzanite can present a problem if you don't select the setting wisely.
In order to protect your beautiful gem during daily wear, it's important that you buy an engagement ring with a setting that really surrounds the stone. If you plan to wear your tanzanite ring only occasionally, this may not be as significant of a consideration.
Verify Authenticity
The popularity of tanzanite has led to several lab-created and imitation stones. While these gems are lovely, they often lack the deep color and luminous beauty of natural gems. If you're interested in natural tanzanite, be sure you request a certificate of authenticity with the engagement ring. This proves that your ring features a real tanzanite gem.
Look for Top Quality
Just like diamonds, tanzanite comes in a wide range of colors. However, there isn't an established grading system for tanzanite gems, as there is for diamonds. This means that as you're shopping for an engagement ring, you may encounter very different definitions of "AAA" or "best quality."
According to the Gemological Institute of America (GIA), the most desirable tanzanites are those that show a deep, rich blue color. This color is often achieved by heat-treating the stone, but the effect is permanent. The GIA notes that many people prefer the lighter purple shade of tanzanite. Choose the color that suites your personal preference.
Spectacular and Unique
Whether you choose a solitaire or a ring with diamond accents, your tanzanite engagement ring will be lovely. If you educate yourself about the many beautiful styles and the importance of a good setting, you'll end up with a spectacular and unique ring that's sure to turn heads.