Popular television shows are often responsible for fashion and jewelry trends, especially when celebrities wear exceptional pieces that catch the public's eye. Eva Longoria's engagement ring is one such example, and the star's stunning bauble is well worthy of admiration.
Who is Eva Longoria?
Eva Jacqueline Longoria is one of the stars of the ABC hit show, Desperate Housewives, which first aired in 2004. The catfight laced, sultry Wisteria Avenue drama is not Longoria's first foray into television, however. She also starred in other popular shows such as Beverly Hills 90210, General Hospital, and The Young and the Restless, all of which allowed her to perfect her talents on the small screen before skyrocketing to prominence as Gabrielle Solis. In 2005 and 2006, Longoria was named the #1 hottest woman of the year by Maxim Magazine, bringing her classic good looks and long, luscious hair into even more prominence.Eva Longoria was previously married to her General Hospital costar, Tyler Christopher, from 2002-2004, but on Desperate Housewives her character does not have marital success. On November 29, 2006, however, Longoria's long-time boyfriend, NBA star Tony Parker of the San Antonio Spurs, proposed, and the excited couple issued an official engagement announcement the next day and began planning for a July 2007 wedding.
About Eva Longoria's Engagement Ring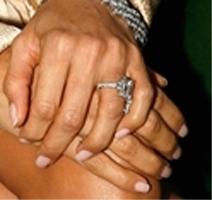 Parker popped the question with a stunning emerald cut engagement ring set in white gold and weighing in at a whopping five carats. The engagement ring setting is a simple yet classic tiffany prong design that emphasizes the ring's beauty without overshadowing the exquisite appeal of the multiple gems.Eva Longoria's engagement ring was custom designed by renowned French jewelry designer Jean Dousset, and includes a total of 248 minute diamonds emblazoned across its shank, as well as an intimate engraving with a personal message written by Parker and in his handwriting inside the ring. The ring may be large but it is well-proportioned to Longoria's finger, and the classic design has a subtle femininity coupled with a strong presence that matches her vibrant personality.
Finding a Replica
Fans of Desperate Housewives and Eva Longoria can find celebrity-inspired replica rings through many online stores, typically crafted from sterling silver and using cubic zirconia instead of real jewels. The cost of Longoria's ring has not been revealed though it has been reputed to be as high as $500,000, but fans can easily secure replicas for $100-500 depending on the quality of the piece.
Eva's Other Bling
Like any woman with a discerning eye for fashion and beauty, Eva Longoria's engagement ring is not the only piece of sparkle she wears. The star is often seen with a diamond-studded pendant in the shape of a number 9, Tony Parker's jersey number. Furthermore, Gabrielle Solis is often decked out with outrageous and beautiful bling, giving fans even more options to replicate this diva's stunning style.
---
Television shows often spark jewelry trends among their myriad fans, but even more popular trends are created when the show's stars themselves sport stunning jewelry. Eva Longoria's engagement ring, with it simple and classic elegance, is sure to create more interest in emerald diamond shapes and pave setting engagement rings, just as all celebrity engagement rings inspire new jewelry fashions for the public to enjoy.