An engagement is a happy event that deserves to be celebrated with family and friends. Try adding a little extra flair to the announcement by including a poem or short verse to help express the joy of the occasion.
Poems to Announce an Engagement
Whether it's long or short, a poem can make a wonderful prelude to the specifics of the actual engagement announcement. You can print the poem on the front of the card, or include it on the inside ahead of all the details.
Poems from the Couple's Parents
Traditionally, the parents of the bride and groom-to-be announce the engagement and throw the couple a party. The following verses work well in this situation.
She Said, "Yes!"
(Name) nervously asked the question
And (Name) joyfully said, "Yes!"
So we're throwing an engagement party,
And we want you to be our guest!
It's True Love
Finding true love
Is a wonderful thing.
Two hearts make a promise,
Symbolized with a ring.
And so (name) and (name)
Have promised each other,
To share the rest of their lives,
And cherish one another.
When Two Like Souls Meet
When two like souls meet,
Love will quickly follow.
Their hearts are filled with joy,
And they no longer feel hollow.
(Name) and (name) have found such love,
And so they have agreed,
To spend their lives together,
Fulfilling each other's every need.
A Happy Announcement
As parents we couldn't be happier
To announce this engagement.
(Name) and (name) are deeply in love
So they've made an arrangement,
To live together and share their lives,
And all that this implies.
So please come to their engagement party,
And look at love fresh through their eyes.
Poems from the Happy Couple
Sometimes a couple prefers to announce their engagement themselves. Here are several poems written from their prospective.
Love Is Here to Stay
We've realized love
Is here to stay.
So let's celebrate
To mark the day.
We'd love for you
To come be our guest
And share the joy
At our engagement fest!
Our Lives Will Be Shared as One
We've decide to share
Our two lives as one.
We're having an engagement party,
And we hope that you will come.
The Rumor Is True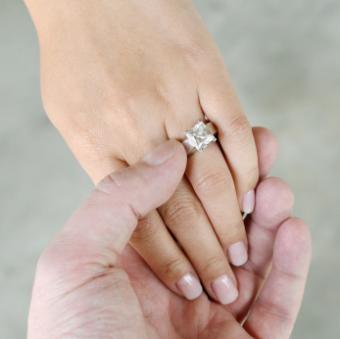 In case you've heard the rumor,
We want to confirm it's true.
We're engaged to each other,
So we're announcing it to you.
We've planned a little party,
So we can share our happiness.
It wouldn't be the same without you,
So won't you please be our guest?
A Match Made in Heaven
First we were best friends,
And then we fell in love.
We figure we must be a match
Made in Heaven up above.
One of us said, "Marry me."
The other one said, "Yes."
So now we are engaged,
and we feel so truly blessed.
So we're going to throw a party,
And we hope that you will come.
It will be an awesome occasion,
To celebrate love and have fun!
Humorous Engagement Poems
A more playful poem can provide the perfect announcement for a couple that has a great sense of humor. Here are a couple of examples.
We've Agreed to Settle
Bet you never thought you'd see the day,
When the two of us would finally say,
We'd take each other as man and wife
For better or worse, together for life.
But we've agreed it's time to settle,
Though marriage will certainly test our mettle.
So we're announcing our engagement to you,
Because we finally plan to say, "I do."
Who Else Would Have Us?
Who else would have us?
You have to agree.
Although we may be a bit odd,
We suit each other to a T.
So we've decided it's time,
To finally step up.
We just got engaged,
So wish us good luck!
Engagement Announcement Verses
If a full poem seems like too much and you want something that's a little more direct, an announcement verse might be just what you're looking for. Some rhyme and others don't, so you can pick the style that suits you best.
Romantic Verses
An engagement is, by definition, a romantic moment.
Non-Rhyming
From the first moment our eyes met
We knew this joyous day would come.
Announcing the engagement of Samantha Green and Jack Simpson,
Who have found the love they have been seeking all their lives.
Rhyming
Take my hand. I give you my heart.
From this day on, we shall never be apart.
Samantha and Jack have wedding news to share.
In a few short months, we hope you will be there.
Short and Sweet
One day, we will look back on this moment as the turning point in our lives.
Our hearts are full of love today as we announce the engagement of Samantha Green and Jack Simpson.
Simple and Romantic
Today, Samantha Green and Jack Simpson
Agreed to join their hands and unite their hearts forever.
Casual Verses
Casual verses can rhyme or not, depending on the mood you'd like to set. They typically come from the bride- and groom-to-be, but parents of either party can also use them to share the news.
Light and Happy
He asked, and she said "yes!"
Soon we'll invite you to be our guest!
Samantha Green and Jack Simpson
Are excited to share the news of their engagement.
Cute Phrasing
I've always heard there are lots of fish in the sea,
But there's only one that's perfect for me!
Samantha Green and Jack Simpson are engaged!
Short and Simple
You all knew it was going to happen eventually -
We're excited to announce that Samantha and Jack are engaged!
Brief Rhyme
Two years ago, Samantha and Jack's love started with a kiss.
Someday soon, they'll be enjoying wedded bliss.
Formal Verses
Formal engagement verses are less likely to rhyme than their casual counterparts, and they are usually written from a third-person point of view.
Parental Announcement
Mr. and Mrs. Robert Green are proud to announce that their daughter,
Samantha,
Has agreed to share her life and love
With Mr. Jack Simpson.
Wedding details to follow.
Announcement by the Couple
Miss Samantha Green and Mr. Jack Simpson
Hope you share their joy as you learn the news
That they are engaged to be married.
Wedding details to follow.
Announcement verses written my Kate Miller-Wilson.
A Poem or Verse Can Set the Tone
Whether you're the one who is getting engaged or someone making the announcement on behalf of the loving couple, make sure the poem you choose expresses the joy of the occasion. The right poem or verse can set the tone for the entire announcement, as well as the engagement party to follow.