Emerald Cut Diamond Wedding Rings
Emerald Cut Eternity Band
More Details"
The emerald-cut diamond, with its stepped facets and subtle sparkle, makes a unique choice for a wedding band. The lovely eternity band style pictured here is a complete circle of 25 emerald cut diamonds. In a size 6, the ring features just under 3 carats total weight and is priced around $5,500. It is available in sizes 4 - 12, with price and carat weight varying by size.
For purchasing information, click on the "Buy now" button on any image.
Sparkling Row of Emerald-Cut Diamonds
Buy Now"
Set in a row, emerald-cut diamonds can reflect against one another for amazing sparkle. This 14k white gold ladies' band features seven prong-set, emerald-cut diamond for a total weight of 1.40 carats. It retails for just over $2,600.
Graduated Emerald Cut
Buy Now"
The geometric nature of an emerald cut makes it ideal for playing with proportion and size. In this breathtaking design, a larger emerald-cut diamond is flanked by four smaller diamonds of the same cut, all flush-set in a platinum band. It retails for $5,700.
Alternating Emerald and Round Brilliant Cuts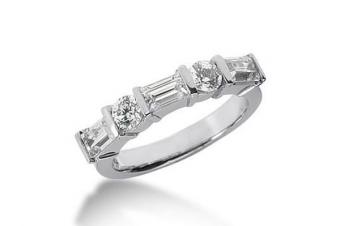 Buy Now"
Emerald-cut diamonds add exceptional visual impact when they alternate with other shapes. In this unique 18k white gold women's wedding band, three emerald-cut diamonds form an alternating pattern with two round-cut diamonds. This ring, which has a total diamond weight of 1.30 carats, retails for about $3,800.
Modern Horizontal Half Bezel-Set Ring
More Details"
An emerald cut can have a modern feel, especially when it's half bezel-set on its side in a simple band. This 14k white gold band is adorned with an emerald cut center stone with baguette diamonds set in the band itself on the side. This ring from MDC Diamonds retails for around $1,200.
Channel-Set Emerald Cut
More Details"
Emerald-cut diamonds look beautiful in a channel setting, especially when they are surrounded by glowing yellow gold. This 18k yellow gold ladies' wedding band is the perfect setting for 0.50 carats of sparkling emerald-cut diamonds. It retails for about $1,200.
Delicate Horizontal Emerald-Cut Band
Buy Now"
A horizontal orientation gives an emerald-cut diamond eternity band a delicate, beautiful look. This pretty platinum band has 3.25 carats of emerald-cut diamonds and retails for about $10,800.
Whether you choose an eternity band with several diamonds or a simple band with one emerald-cut gem, you'll find that these unique wedding rings attract attention. The emerald cut is stunning and unexpected, and it makes a beautiful choice for a wedding ring that symbolizes the beauty of your love.