Classic and elegant, diamond tennis bracelets are the jewelry equivalent of the little black dress. Suitable for a range of wardrobes and special occasions, their versatility makes them an excellent addition to any woman's jewelry box.
What are Diamond Tennis Bracelets?
Originally called eternity bracelets, these delicate bracelets got their sporty name from world championship tennis player Chris Evert, who wore one during the 1987 U.S. Open. During one of her games, the bracelet broke, and the match was paused while she could recover it. Thus the name "tennis bracelet" was coined, and the bracelets' popularity quickly increased because of this unintentional publicity.
There are several defining characteristics of diamond tennis bracelets. They consist of small gems strung in symmetrical, continuous links along a narrow, flexible chain with no charms or other add-on embellishments. Generally speaking, there should be more gem than metal visible, similar to a pave setting engagement ring. Different jewelers, however, define bracelets differently, and any design that utilizes a repeating pattern of diamonds and metal may be called a tennis bracelet.
Bracelet Styles
While it may seem that tennis bracelets are rather simple and predictable, there are actually many different styles available. Factors that may alter the bracelet's style include: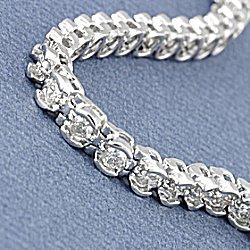 Some of the most popular styles of diamond tennis bracelets position bars of metal between each stone in any number of shapes, from straight or S-shaped bars to delicate swirls or meaningful X-shapes, giving the piece a fun "hugs-and-kisses" theme with the stones providing the O's.
Bracelet Cost
The bracelet's final cost depends primarily on the total carat weight of the diamonds. A very thin, narrow bracelet may use only one-quarter carat of stones, while a heavy bracelet may weigh up to four carats. Several jewelers do offer heavier versions, up to seven carats or more, for substantially higher prices. Most bracelets cost between $200 and $5,000.
The quality of the diamonds also affects the final price. Certified stones typically cost more, though a very heavy bracelet with lower quality stones may be less expensive than a light bracelet with colorless, flawless diamonds. Colored diamonds may also be used for a rare and distinctive piece, though the price will be notably higher.
More Affordable Options
To find more affordable diamond tennis bracelets, look for designs that utilize smaller stones with creative metal patterns between them such as infinity links or elongated ovals or bars. This lowers the carat weight of the bracelet without destroying its symmetry and beauty. Other options include using synthetic or imitation diamonds such as cubic zirconia or moissanite, or choosing lower quality diamonds that may not show any visible difference to an untrained eye. Adding colored gems is another way to lower the cost of the ring without sacrificing its defining characteristics.
Diamond Tennis Bracelets as Gifts
Classic and elegant, diamond bracelets make stunning anniversary, birthday, and holiday gifts for women of all ages. They are also beautiful engagement gifts, either from parents to their daughter or from a groom to his bride-to-be, perhaps to wear on the wedding day. When giving a bracelet as a gift, note that the most common length is seven inches - this will fit all but the largest and smallest wrists. If a special size may be needed, consult a jeweler before making a purchase.
Caring for a Bracelet
All diamond jewelry requires meticulous care to look its best, and bracelets are no exception. Store them away from other pieces to prevent accidental damage, and clean them carefully with a soft cloth to maintain their brilliance. Periodically inspect the clasp - claw and box clasps are the most common - to be sure it is secure. If any stones are lost and repairs are necessary, bring the piece to a qualified jeweler.
---
With classic glitter and elegant flair, diamond tennis bracelets are a stunning addition to any jewelry collection. From narrow, delicate bands to heavier, more elaborate designs, there is a wide range of options to suit any budget and style with this beautiful accessory.