For many people, the size of the center gem is the first thing they notice on an engagement ring. There's no official guideline about how large your center stone should be, since the design of the ring, your…
Keep reading »
Browse Topics in Engagement Ring Basics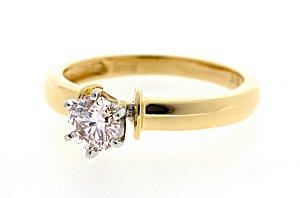 Knowing engagement ring basics will help a couple find the perfect ring with minimum complications and confusion. Because an engagement ring is such an important investment, it is crucial to be fully aware of each aspect of the ring while investigating different options.
Defining the Basics
The jewelry industry is replete with vocabulary, and knowing the proper definitions of basic terms will help couples have educated and informative discussions with jewelers as they examine different engagement rings.
Finding a Perfect Engagement Ring using the Basics
Once a couple is familiar with engagement ring basics and terminology, they can consult a jeweler to view styles, designs, and shapes that suit their style preferences and budget. By being an informed consumer, they will know more about the market and options available, giving them the opportunity to find the perfect ring to symbolize their relationship.