Shopping for Aquamarine Engagement Rings
If you're looking for a unique engagement ring and want something a little more colorful than your standard diamond, an aquamarine ring is a great choice. This striking pale blue gem is the official birthstone for March, and it's also an affordable and beautiful centerpiece for an engagement ring. Whether you choose a solitaire or a diamond-accented design, you'll love the way this gemstone sparkles on your finger.
Styles of Aquamarine Engagement Rings
Aquamarine Solitaires
One of the simplest choices for an engagement ring, this style features a single aquamarine in a classic setting of white gold, yellow gold, or platinum.
Consider some of these lovely options: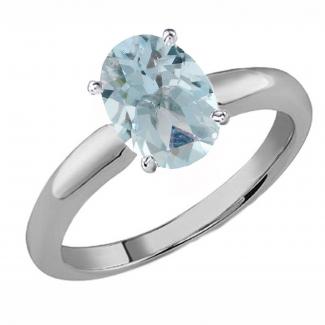 Aquamarine Three-Stone Rings
A three-stone ring is another classic choice. This style typically features a center stone flanked by two smaller gems. Some styles feature only aquamarines while others pair the stone with diamonds or other gemstones.
Consider some of these beautiful three-stone rings:
Aquamarine Rings With Diamond Accents
Diamonds can set off the icy blue of aquamarine, drawing attention and adding sparkle to the center gem. There are many designs, some of which will work with a band-style wedding ring. You'll find diamond-accented options ranging from simple to very ornate.
Consider some of these stunning rings:
Buying a Vintage Aquamarine Ring
Many aquamarine rings have a subtly vintage style for a reason: this gem was very popular during the Victorian and Art Deco periods. If you love these antique styles, you might want to consider purchasing an antique aquamarine engagement ring. You can find these lovely rings in some local antique shops as well as online.
If you're shopping online, consider some of these resources:
Things to Consider
As with any major purchase, it's good to know as much as possible before you being shopping for an aquamarine ring. Understanding the basics about this stone and the various settings will help ensure you get a good deal.
Choose a Setting to Show It Off
Unlike other diamond alternatives, aquamarine is actually a relatively hard stone. Rating an eight on the Mohs Scale of Hardness, this gem isn't prone to scratches, cracks, or other damage. This means you can choose a setting that focuses on showing off the stone by allowing as much light as possible to reach it.
Understand That Color Can Vary
There isn't a standard color for aquamarine. In fact, any gem in the beryl family that is blue to greenish-blue is called an aquamarine. This is something to keep in mind when shopping online since monitors can display colors differently. If you're unsure about the color and have a specific shade in mind, check the store's return policy before you order.
Know That Some Aquamarines Are Lab-Created
Lab-created aquamarine gems are fairly common, especially at lower price points. If buying a natural aquamarine engagement ring is important to you, make sure the description clearly states that the stone is natural and not lab-created. You can also ask for a certificate of authenticity.
A Beautiful and Unique Alternative
Whether you choose a modern solitaire design or an antique or vintage-inspired ring, you'll find that aquamarine makes a stunning centerpiece to any engagement ring. These gorgeous pale blue gemstones offer a unique diamond alternative for brides-to-be who want something a little different for this important piece of jewelry.