Oval Diamond Rings for Classic Sparkle
If you love rings with classic beauty but want something a little different from the traditional round or princess cut gem, an oval diamond engagement ring is a wonderful choice. There are so many lovely variations on this type of ring, and it's fun to look at the options before you choose the perfect design for you.
More Glitter Potential
For brides-to-be who appreciate incredible sparkle, an oval diamond atop a diamond-set band is a great way amp up the glitter potential. Choose white gold or platinum so the metal color doesn't contrast with the diamonds. You'll end up with a ring that's all about the diamonds.
A Twist on the Traditional
You can also take that traditional sparkly look in a different direction by turning the oval diamond on its side. This gives the ring more visual width, making it a very flattering option if you have wider fingers or hands. A wider band with a double row of tiny diamonds gives the whole ring major visual impact and incredible light-catching ability. This type of setting is also a great way to enhance the perceived size of a smaller gem.
Three Times the Beauty
A three-stone ring is full of symbolism, making it a perfect choice for an engagement ring. Choose a larger fancy-colored diamond for the center oval to represent your present and flank it with smaller colorless diamonds to signify your past and future. The slight color difference between a fancy yellow diamond and its colorless counterparts is a lovely way to give this classic design a bit of extra personality. It looks equally lovely in yellow gold, white gold or platinum.
Affordable Oval in Your Favorite Shade
Diamonds come in all different colors, from yellow or chocolate-toned to pink, blue, and black. Some colors are more expensive than colorless alternatives, including pink diamonds. However, an oval shape is one of the less costly shapes you can purchase, so rarer colors can be more affordable. Select your favorite color and show it off in a super simple setting, such as a yellow gold prong mount for a solitaire.
A Halo of Sparkle
If you love fancy colored diamonds but want to add a bit more sparkle to your ring, you can use a halo setting to draw attention to your gem. This is also the perfect way to amplify the visual impact of a smaller oval diamond. A white gold or platinum setting can visually recede and allow the diamonds to take center stage, or a yellow gold setting can work well with warmer colored diamonds like yellow or chocolate.
Black Oval for Major Contrast
Black diamonds, which can occur naturally or from a treatment process, are the perfect choice for a bride-to-be who loves the oval shape but wants a non-traditional fancy colored option. Black diamonds, especially in larger sizes, are also significantly less expensive than colorless diamonds, especially for larger stones. If you want a larger focal gem, an oval black diamond is a very affordable choice. Surrounding it by a halo of colorless diamonds adds lots of contrast and visual appeal.
Oval Shape Made of Small Diamonds
You can also have the stunning, symmetrical look of an oval engagement ring without a single larger oval stone. A lovely, unusual choice is to create an oval focal point out of gold set with dozens of small diamonds. This type of ring has major visual impact and is sometimes more affordable than a diamond solitaire. It's a great option if you love modern style and want something that isn't going to look like everyone else's ring.
Handcrafted Oval Design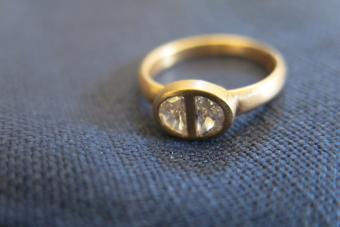 Handcrafted rings offer a chance to own a totally unique piece of engagement jewelry. To obtain one, you can work directly with a jeweler to design the exact ring you have in mind. One great option is an oval ring consisting of two bezel-set, half circle diamonds. The half circles can represent you and your betrothed; together, they make the gorgeous oval shape of the ring. A yellow gold bezel setting helps frame and protect the gems.
Radiant Rose Gold Oval
A surprising and lovely choice for engagement rings, rose gold provides a romantic warmth that perfectly complements a pink-hued diamond. It's also lovely with colorless, oval diamonds. Choosing a decorative setting with scalloped prongs and a beaded gold band is gorgeous with an oval diamond since the continuous repetition of the curving shapes echoes the sweet curve of the oval gem.
Diamond Rings With Other Gems
You can also enjoy a diamond-studded ring with another oval gem as the centerpiece. This works well to show off a sapphire or other colored gemstone since the contrast with the sparkling diamonds lets both types of gem really shine. A triple halo of tiny diamonds adds major visual impact, and two-toned design of white and yellow gold provides even more style. If you want an oval ring that will really get noticed, mixing metals and gems is sure to turn heads.
No matter which design you choose, an oval engagement ring is flattering on many finger and hand shapes. Try on some different designs to see which one speaks to your heart.